Native American Games Online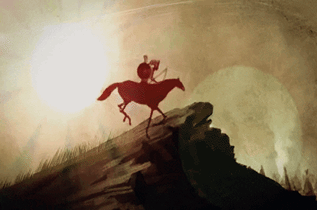 On the morning of 12th October 1492 an event occurred that was to fundamentally change the way of life for the tens of millions of native Americans who inhabited North America. They had lived there developing their own hunter-gatherer way of life for tens of thousands of years since first migrating as nomads from Asia. This event was the sighting of the Americas by a sailor on board the ship Pinta that had sailed from Europe. The Europeans had arrived and brought with them war, disease, a totally different culture and a thirst for land to colonise. Land that was the ancestral native American home. Within 400 years that land was lost, stolen or purchased and the native Americans were herded into settlements. Today the term "Red Indian" is seen as derogatory with most preferring the term "Native American".

The Term Red Indian was used because Christopher Columbus thought he had discovered a western route to India and they were called "red" because of the paint they used on their faces. The term stuck and was in common use until recent years. We have used it on this games page simply to explain why the term is no longer acceptable with many not only rejecting "Red Indian" or "American Indian" but preferring to be named after their tribe. As the publisher and editor of The Navajo Times, the largest Native American owned weekly newspaper, puts it, "I . . . would rather be known as, 'Tom Arviso Jr., a member of the Navajo tribe,' instead of 'Arviso, a Native American or American Indian.' This gives an authentic description of my heritage, rather than lumping me into a whole race of people." Here we present some of the best native American games online.
---
---

The settlers, whilst originally friendly, had a disregard for native American traditions. In this Indian village came you need to protect your village from land hungry colonists.
---

This Indian war game is based on the Nez Perce War of 1877 between the settlers aand the nnative American Indian tribe who lived in the Pacific north-west region of America.
---

Many native Americans believe in "animism" that animals have souls and consciousness and some try and tap into that animal spirit to become one with nature. In this game play the role of a native American on a quest to destroy evil and become as one with the animal spirit.
---
---

This American Indian curse game is set in the mid-19th century when you travel to lands you have inherited only to find they are subject to an ancient Indian curse which has destroyed the frontier town.
---

The modern day game of lacrosse had its origins in the old game of Bagataway played by native American Indians in north America and southern Canada. This is an online version of the game.
---

In this native Americans puzzle and logic game you are locked in a room full of old native American symbols and artefacts and need to find a key to escape.
---
---

The Kayak was a fundamental part of life for the native American Indian not just for travel but for transportation and hunting around inland rivers and lakes. In this game paddle your Kyak down river avoiding rocks.
---

This online fishing game takes place on the Columbia River in the Pacific Northwest region of the United States. You play the role of the native American girl Kaya'aton'my of the Nez Perce tribe.
---

The bow and arrow has been used by native American Indians for hunting and war for thousands of years with some arrow heads dated to 13,000 years old. In this Indian bow and arrow game shoot your arrows at various targets to prove your warrior skills.
---
---

Land in what is now the United States of America was originally populated by the native Americans and for many it was held in scared trust, sustaining lives and helping develop culture. In this native American game fend off an attack by European settlers who are trying to take your land.
---

The term "Red Indian" was used because of the red war paint used by native Americans and because Christopher Columbus thought he had landed in India. In this "Red Indian" game you are a warrior out to protect your village from encroachment by European settlers.
---