Wild West Games Online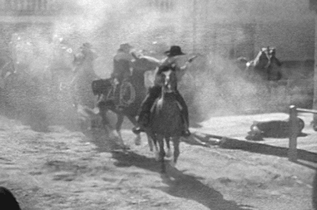 The wild west typically refers to the period in north American history when settlers pushed west in search of new lands and riches, such as during the Californian gold rush of the 1840s and is a highly romanticised period of lawlessness and adventure. Romanticised that is in books and movies, but for the early settlers it was a difficult time and for the native Americans one of great angst as their native and ancestral homelands were taken over by the settlers as they were eventually pushed and relocated into settlements often far from the land they loved and had fought so hard to maintain.

Some of these wild west games are based on an event that happened on 4th July 1828 when America's oldest living man, Charles Carroll, plunged a spade into the soil and work began on what was to become the Baltimore and Ohio Railroad, a railway that was to continue in operation until 1987. The railways were to revolutionize America as, for the first time, heavy loads and high numbers of passengers could traverse the country in a way that wasn't always practical on horseback or stagecoach. Some of these games reflect those pioneering days of the wild west. So, whether you want to you want to play shooting wild west games or undertake frontier adventure games, construct a railroad, protect your train from bandits, on this page we showcase some of the best wild west games online.
---
---

In this wild west game, Don Chaun Chanceze "Coyote" Peppe and his band assaulted the mayor of the quiet town of Susieville and killed its sheriff. It's up to you to save the citizens of this remote community out there in the wild, wild west.
---

This bandit game is very fast moving and you've only got six bullets in your gun before you need to reload, and you've got two fast shooting cowboys out to take you down!
---

This wild west game is set on an old train in the wild west which you hijack with your gang of bandits leading to a shootout on top of the train.
---
---

In this train ambush game, the Daakus are attempting to ambush the train and kill the passengers but fortunately for the train company you're there with your gun to take them all down and lead the passengers to safety!
---

It's a familiar scene in books and movies believed to have first appeared in a play by Charles Bolton called The Engineer in 1863. In this game, help save the girl who has been tied onto the railroad track before the train approaches.
---

Help construct a railroad in the wild west and make sure the railway sections are in place to travel along safely before a train starts its journey to a train station.
---
---

The minecart is hundreds of years old and was used to transport minerals and men during the old mining days of the wild west. In this game try and escape an old wild west mine as the minecart hurtles out of control deep underground!
---

This wild west mystery game is set in an old western town and an agent from the Pinkerton Detective Agency has gone missing and you're recruiting to use your detective skills to solve the mystery.
---
---

You and your friend have lost your third companion and are stuck high on a ledge in the heart of a hostile desert in the wild west. You have to work out how to find your friend and get out of this place to safety.
---

IN this wild west game, gunmen have taken over an old wood mill and they intend to defend it to the hilt and you're the only sharpshooter in town who take take it back for your employer.
---